Gemini Goldens
Premiere Golden Retriever Puppies in Florida
Riley, a Laney pup, was featured in Hometown News recently!
photo credit: Betsy Stange
---
Taking home a pup? Check out our List of Things you Need!
Did You Know?
Gemini Goldens is an AKC Breeder of Merit.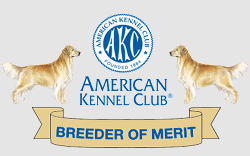 In the gallery above and the photos below, you'll see our extended history of producing high-quality show and pet Goldens. We are the leading destination in Florida for Golden Retrievers>
We are often asked how we can bear to part with all of the very very cute puppies that we breed, after raising them from birth to eight weeks of age. Our answer is really easy: we send them to wonderful forever homes and we watch as the pups make the new owners and their kids very happy. We see this happen and it puts it all together for us. Get on our litter list. Fill out our Puppy Form now.
Are you a Breeder?
Chase
is available at stud, to qualified females.
Our History of Puppies
Dec 2012
Snuggling up with a Keno Pup
Fall 2011
There is always one that wants to be different! Photo by Bill Welser
8-12-11
Emily got to take her pup home Friday 8-12-11!
1-19-11
This is a shot of Dawn's puppies eating one of their very first solid meals! (Photo by Bill and Susan Welser, Gemini dog owners from an earlier litter.)
12-25-10
Dawn's pups had visitors today, when the Aebli family stopped by!
12-13-10
Dawn gives birth to 9 pups today. Here are the pups at 4 Hours of age, enjoying an afternoon with Mom!
5-21-10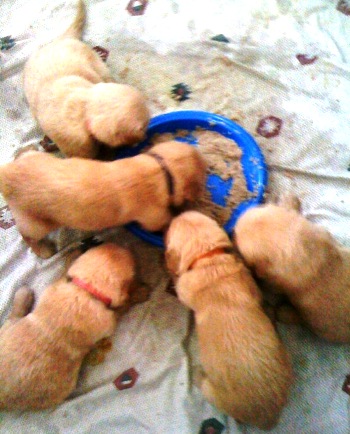 Spark's pups at four weeks, enjoying their first solid food
5-17-10
Spark's pups up-close at three weeks
5-09-10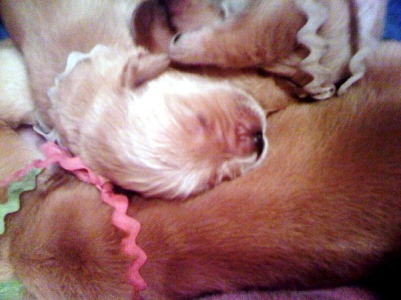 Spark (Gemini's Fireworks in Flight) was bred recently to Ocean (BISS Ch Rush Hill's All Fools on Deck), and six puppies (all girls) were born on April 24. Deborah Busch (co-breeder of this litter) was able to catch them snoozing.
4-14-10
Laney had six boys and two girls this morning! All are looking great.
4-14-10
Laney was bred to Ch Rush Hills Run'n Amuck At Abelard (Chaos) today. This breeding brings us back to the Rush Hill line from which we began ten years ago with Houston, a product of Rush Hill's Kirby.
1-26-10
This is Flora, from the Keno-Roman litter. Her parents, Sue and Bill Welser, tell us that she is doing extremely well in her new home!
5-12-09
Before Skye's last group of puppies went to their forever homes, Dick's grandson from Virginia, came to visit.
4-19-09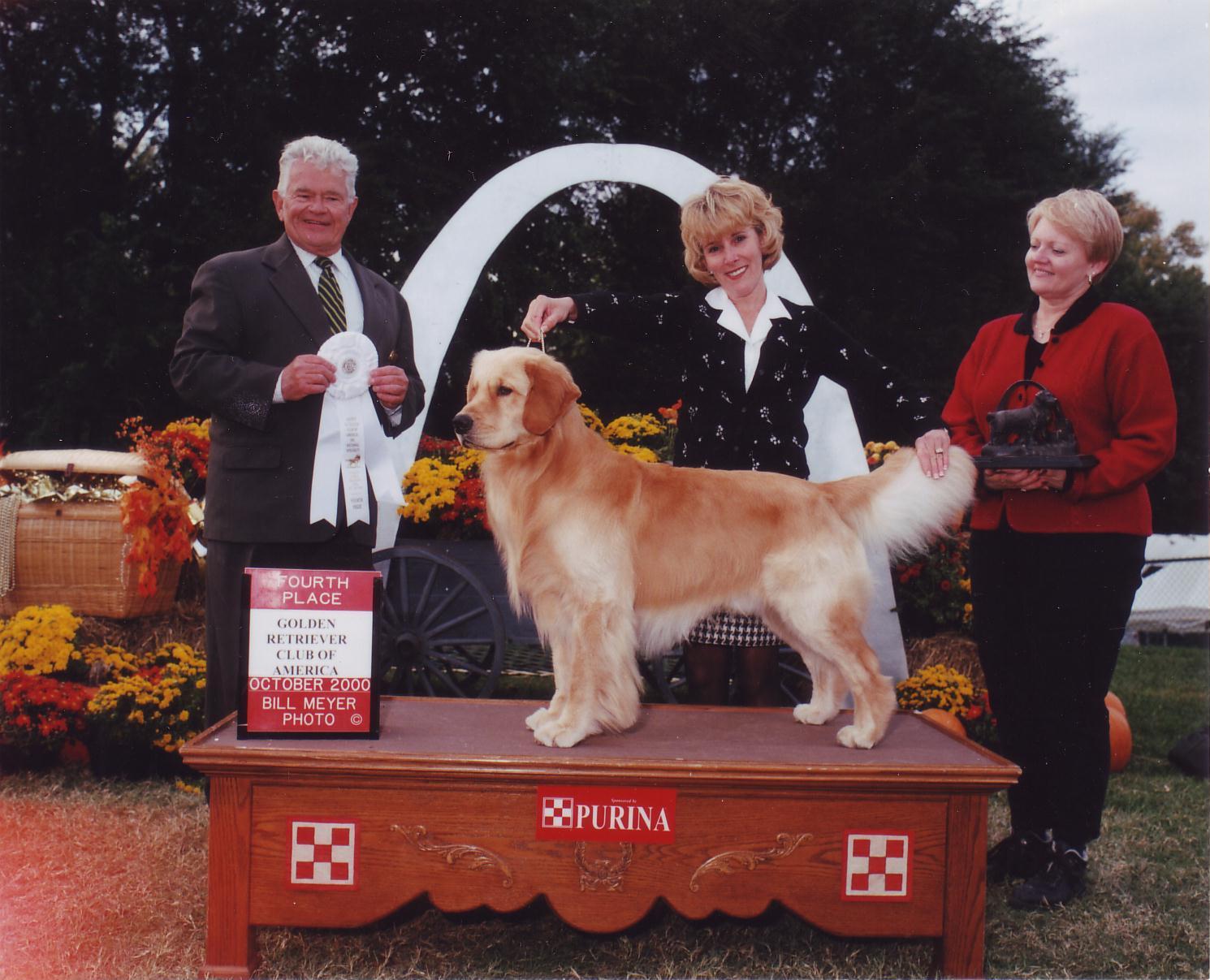 On March 26, 2009, our Dancer (Gemini's River Dance) was bred to Packer (Ch Tejas Caribbean Packer), a litter mate to Houston, who was Dancer's maternal grandfather. This is a line breeding in which we hope to retain the great structure and movement that came from Houston's very famous father, Kirby.
01-09
Jessica, future owner, with a Laney puppy, January, 2009
12-30-08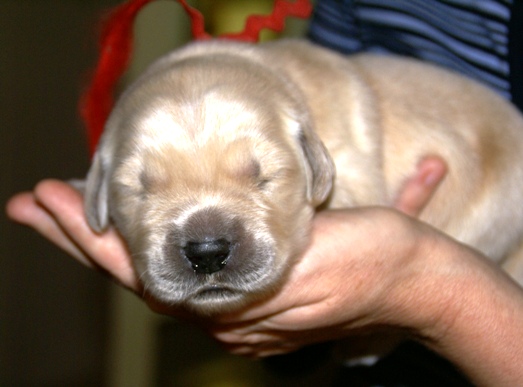 Laney had a litter of 10 puppies (7 boys and 3 girls) on Dec 26,2008. Here is a little one at 4 days old.
Winter-08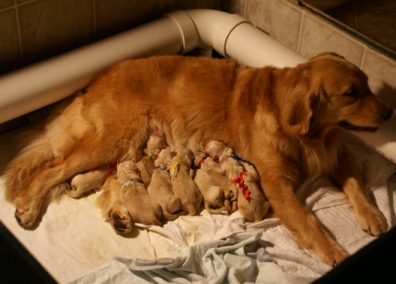 Skye was bred to Brighton and had her pups on Jan 07,2008. The litter had 6 girls and 3 boys. On March 5, all the pups went home with four (4) of them considered to be "show" dogs to show homes. The other five (5) pups went to wonderful "Forever homes" around the State.
01-06-08
The last of the Keno-True puppies went to his "forever" home today. All of these boys and girls are doing well: making families happy. Gemini's Furst Light (Dawn) will stay at our home and become a Show Dog in the tradition of Houston, Dallas and True, in our fourth generation of Champion goldens.
12-10-07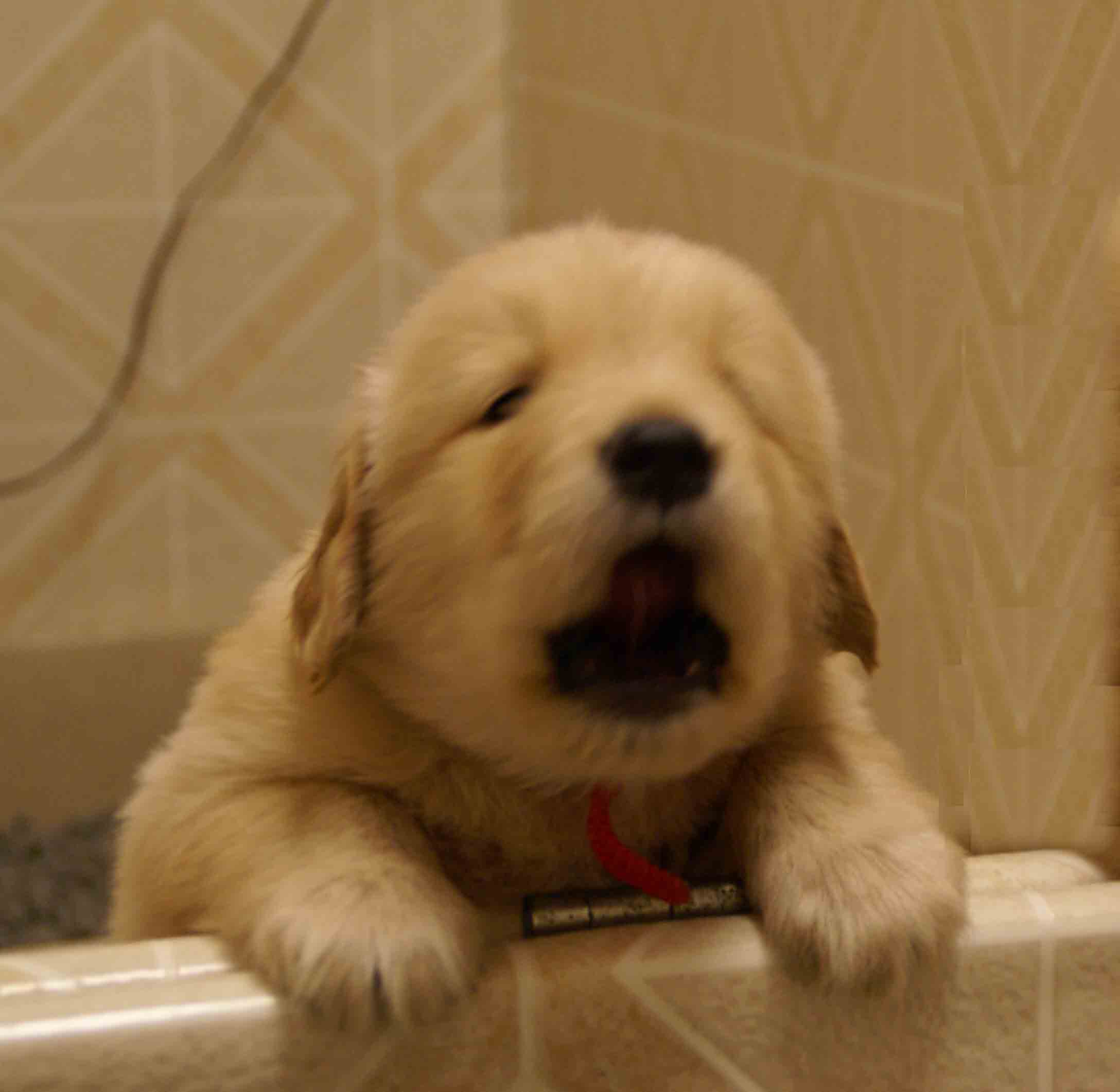 Darlene was able to capture a yawning puppy. The Keno-True puppies are living up to their breeding.
Christmas 2000
Jumping back in time, here is a shot of our very first litter of Goldens. This is the Texas Litter of Houston and Brittany, at home in Texas, Christmas, 2000. Dallas, our 2002 National Specialty winner, is from this litter.
As you can see by our history, the original Gemini Goldens is a premier breeder of Golden Retrievers in Florida. Contact us at anytime if you'd like to join our puppy list or if we can answer any questions.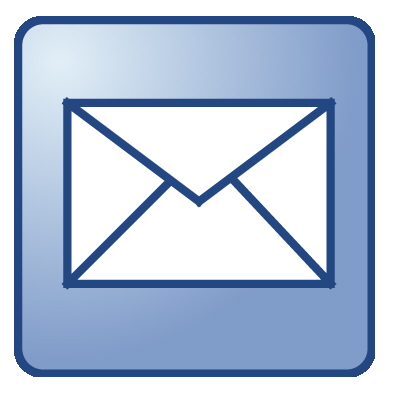 Email Us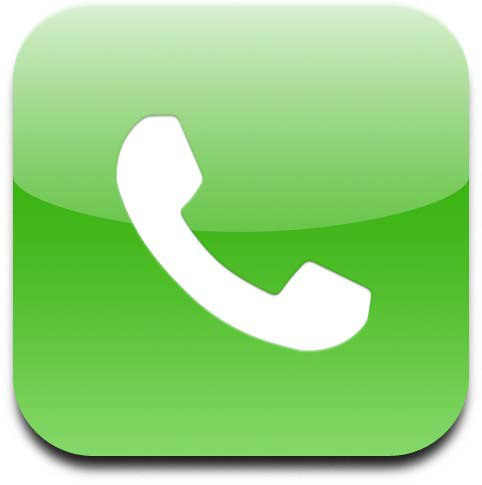 321-636-7387

Follow Us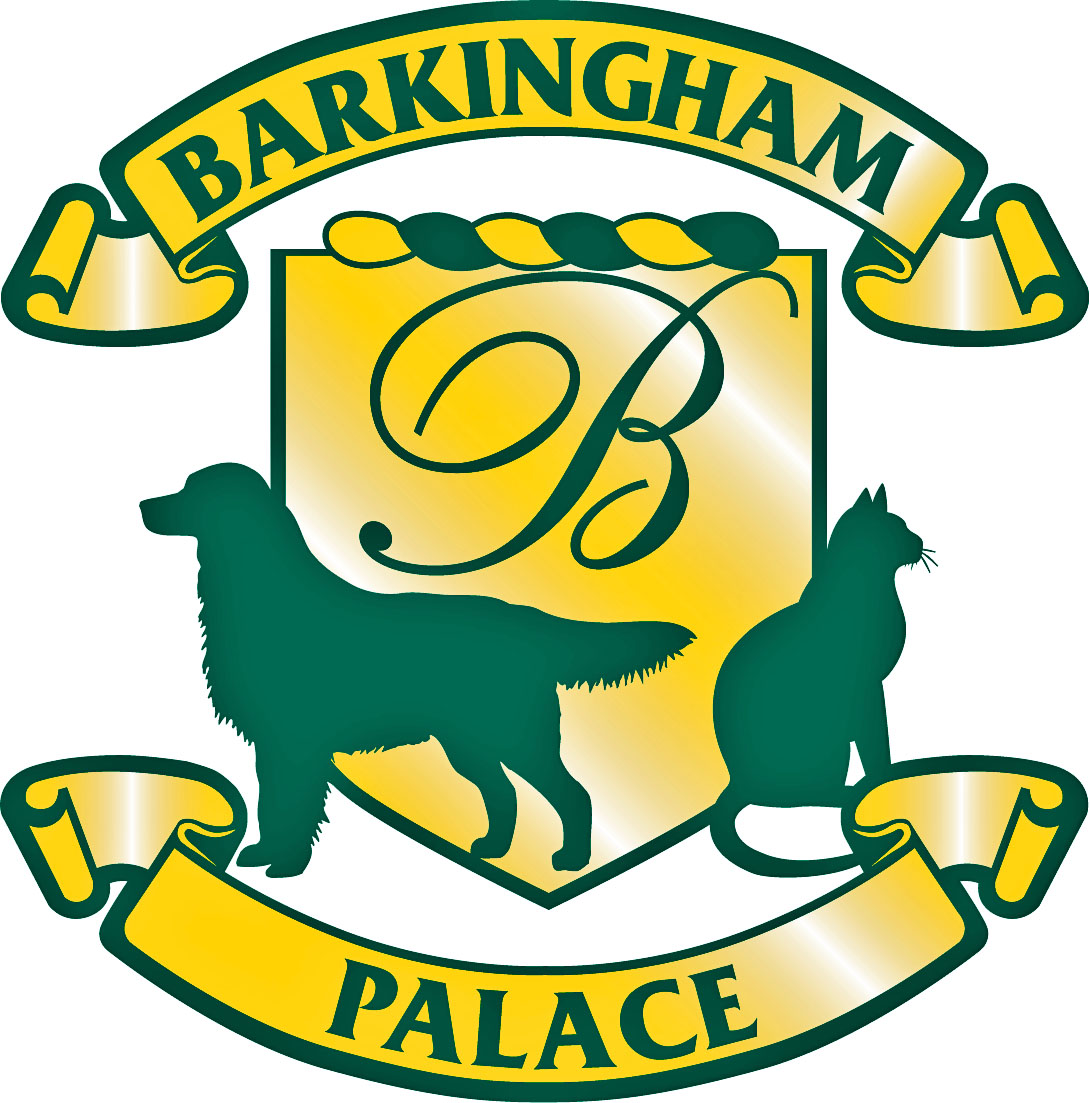 Check Out Our Kennel